Welcome to T-UK Chester Taekwon-do (Emm TKD)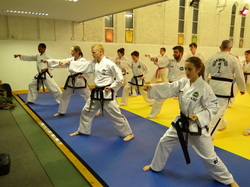 Thank you for visting our website.
Chester Taekwon-do is a family friendly club, with a mixed, male and female instructor team, offering modern and professional martial arts training in Chester.
We run classes on Monday and Wednesday evenings, at schools in Upton and the City Centre, for kids aged 4 to 12 years and with separate classes for teenagers and adults.
Our instructors are DBS checked for child protection and we are fully compliant with privacy and data protection law.
New members are always welcome and we cater for people of all abilities and fitness levels.
No experience is required and all new members will receive a completely free, trial lesson.
We practice traditional, ITF Taekwon-do, as developed by
General Choi Hong Hi
and his pioneering masters in Korea. We are part of Taekwon-do United Kingdom (
T-UK
) and globally we are members of the International Taekwon-do Federation (
ITF
), which was founded by General Choi Hong Hi in 1966. These national and global affiliations ensure that our students have the very best tuition and opportunities available.
​Search for us on Facebook and Instagram as 'tukchester'
---